Cook Islands Recognised As #1 Country To Visit By Lonely Planet
2nd August 2023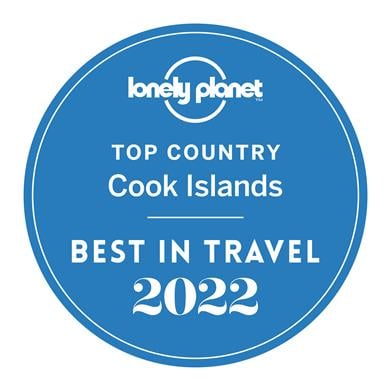 Lonely Planet has revealed its list of the hottest destinations around the world for its Best in Travel list 2022, with the Cook Islands topping the bill as the number one country to visit.
The Cook Islands has won the highly acclaimed "Best in Travel" award for 2022 from leading travel brand Lonely Planet, which began publishing the popular Lonely Planet travel guide books nearly a half-century ago.
Lonely Planet's founder, Tony Wheeler, once described the lagoon of Aitutaki as "the world's most beautiful lagoon". Now, the prestigious international award his brand built is recognising the broader Cook Islands as the number-one country to visit in 2022.
The "Best in Travel" award, which was initially known as Lonely Planet's Bluelist, is entering its 17th year. The judging process begins with a vast, global network of Lonely Planet staff, writers, bloggers, and partners creating a shortlist of destinations, from which a panel of travel experts selects the top countries, regions, and cities to visit the following year.
Recipients of next year's award were selected based on their commitment to sustainability, community, and inclusivity in tourism; preparedness for welcoming visitors in 2022; and general appeal. The selection panel considered such initiatives as Marae Moana, which became the world's largest marine-protected area when it was signed into law in 2017, and the Mana Tiaki Eco Certification Programme, which accredits tourism operators based on the environmental sustainability of their practices.
"We're excited to be chosen for this award, especially after a global pandemic," says Karla Eggelton, Director of Global Sales & Marketing at Cook Islands Tourism Corporation. "We see the award as a great launching pad for when travel opens again in 2022."
While tourism was steadily increasing to the Cook Islands before the coronavirus became a global pandemic, the South Pacific paradise remains largely unknown in much of the world.
Comprising 15 white-sand islands scattered across a vast expanse of clear-blue Pacific Ocean, the Cook Islands is located between New Zealand and Hawaii and is considered the sun-soaked part of New Zealand as both countries use the same currency. Its size allows travellers easy access to adventures, community events, and authentic connections with local people. Hospitality is ancient practice in the islands and visitors often remark that the people and community were highlights of the travel experience.
Since the country's borders closed in 2020 to prevent Covid-19 from entering, the Cook Islands people shifted their focus to initiatives and programmes that ensured their primary industry would be ready to welcome visitors back after an extended hiatus, but this time with the advantage of a little more foresight.
Halatoa Fua, Chief Executive Officer of Cook Islands Tourism Corporation, announced, "We are hugely honoured to have received this accolade from Lonely Planet. It has come as we continue to prepare and look forward to welcoming visitors back to our little piece of paradise and a time when we can once again share our authentic culture and pristine environment."
For more information about the Lonely Planet "Best in Travel" award, visit https://shop.lonelyplanet.com/products/lonely-planets-best-in-travel-2022