Rarotonga
Is Like One Big Resort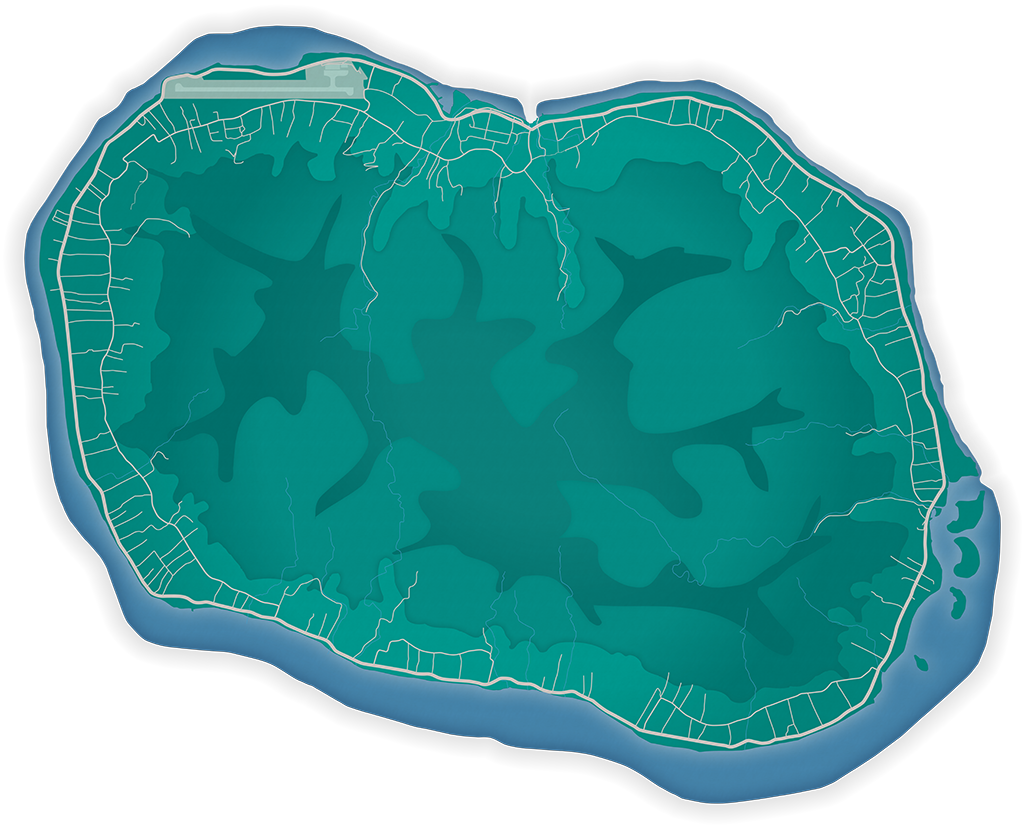 The beating heart of our little paradise will capture yours. Rarotonga, the hub of the Cook Islands, has so much to see and do, yet remains unspoilt. No traffic lights, no McDonald's and no building taller than the highest coconut tree.
The warmth of the tropical sun surrounds you, the scent of frangipani washes over you, the most pressing decision that you face: should you climb the summit of the island's majestic volcanic peak, or explore the crystal clear turquoise waters and swim with schools of tropical fish? Either way you know you'll enjoy your holiday in this tropical paradise we call Rarotonga.
Getting Around Rarotonga
With so much to offer, you'll be excited to learn that getting around our beautiful island is as easy as hopping on board a bus travelling in either a clockwise or anti-clockwise direction. Hire a rental car or jump on the back of a scooter and enjoy the wind on your face as you cruise around our island enjoying both beauty and adventure on tap. It takes just 45 minutes to drive around the whole island, so you'll never feel like you're stuck in the same spot.
Food Glorious Food
On Rarotonga, we have over 100 cafés and restaurants to choose from, with many being located within walking distance from your accommodation. With options ranging from the best burgers you've ever tried at great family friendly restaurants to fine dining with a Polynesian twist, you'll always be spoilt for choice.
Endless Adventure
Feel the rush of endorphins as you conquer our mountains on a guided tour with Maunga Tours. Give kite surfing a go or learn to scuba dive in our warm waters. Take the family to one of our famous cultural villages, or just wander from the sandy white beach to the pool while the kids enjoy an intense day of crab racing and friend-making at the kids club. From adrenalin-packed activities, to the more sedate such as kayaking or stand up paddling in the calm lagoon, or the perfect island massage, we will help you enjoy your stay in a little paradise.
Cultural Experiences
If it's culture you're searching for then don't miss the opportunity to head to a cultural show and be enchanted by our local cultural groups, dancing with fire to the fast rhythm beaten out on a wooden drum. Head to our buzzing Punanga Nui markets and experience beautiful Rarotongan craft, pick up a stunning Tivaevae (brightly coloured hand made quilt) or an exquisite black pearl. Or join with us at church on Sunday as we lift our voices in harmonious song.
Rarotonga Accommodation
You'll be blown away by the different styles of accommodation on offer. If you're travelling as a group and are looking to self-cater, consider hiring a beach house. Or, perhaps you prefer to envisage yourself lying beside a private pool; then a luxurious villa stay is the place for you. If you're travelling with a young family and appreciate the ease of restaurants, room service and a kids club then we also have the ideal resorts for you. In Rarotonga, no matter what type of accommodation you're looking for we've got the perfect place for you
Take a 360˚ Virtual Tour of Rarotonga
Explore Rarotonga like never before. Interactive technology and hotspots allow you to see the Cook Islands from anywhere around the world. Switch easily between places of interest and accommodations on Rarotonga. It's the perfect virtual escape to feel like you're almost here with us.