Top 5 things to do in Mauke
21st December 2020
Louisa Purea is a Digital Marketing Coordinator employed by Cook Islands Tourism Corporation. Her Mauke lineage comes from her father who was born and raised on the island until moving to Rarotonga in his mid 20's to settle. Visiting the island almost every school holidays, Louisa grew fond of the island and it's people. Fast-forward a few years ahead and this 23 year old will always find an excuse to return. Now working at Cook Islands Tourism, Louisa was able to visit the island to conduct a content generation project whilst reliving some sweet memories.
Mauke will forever be an island close to my heart – after all, it is where my dad grew up, and where I enjoyed most of my school holidays visiting my grandparents. It's no question that the island's untouched beauty is an element appreciated by all who visit her shores. It doesn't matter how many times I visit; I'm always finding new things to appreciate and admire. This trip was special for me, because I got to look at Mauke from a tourist perspective rather than a simple Cook Islander visiting another outer island. The island's natural architecture, it's practices and its most prized possession- the people - makes each visit a worthwhile one. So, if you'd like to know what I'd recommend while there – continue reading!
Hire a motorbike and take a tiki tour around the island.
Mauke is just 18 kilometers in circumference – that's about half the size of Rarotonga. It only takes approximately 30 mins to tour the island on unsealed roads– at relatively 40km/ph. There are only two main villages in Mauke - Kimiangatau Village located on the north western side, and Oiretumu Village which is further inland. The rest of the island is the more rural side with its abundance of coconut trees and fragrant Tahitian gardenia (or what we call 'tiare maori').  You'll notice that the island is an all-round farm, with goats chewing away and lose pigs running out to greet you as you drive around the southern and eastern sides of Mauke. Both the island's coast and center are made up of ma-ka-tea (fossiled coral) engulfed by luscious greenery. I'd recommend getting a tour guide to follow you – there are signs planted at significant and historical parts of the island which you may find interesting– and even have your photo taken there! Although being greeted by an ei is the first indication of the people's hospitality and warmth, the second is that you will always be acknowledged with a smile and wave as you drive past. This is one of the ways you can take in the island's untouched beauty at your own pace and leisure.
2. Go for a swim at Vai Tango Cave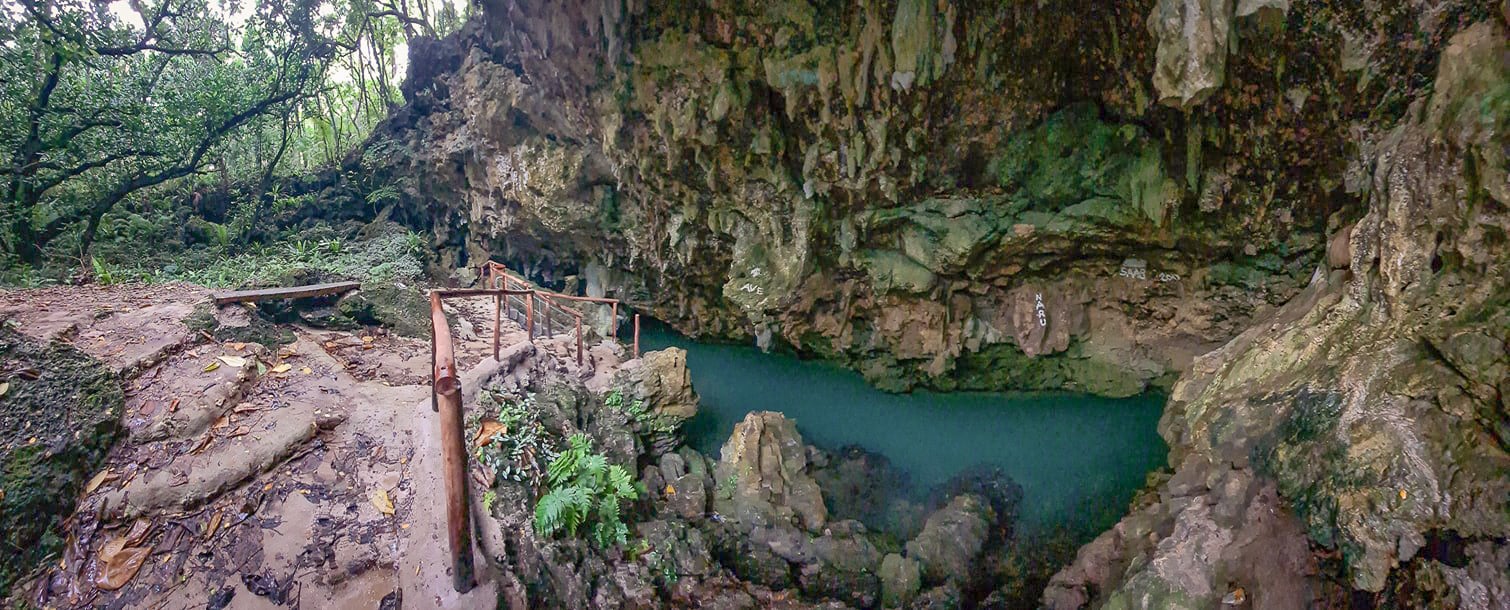 The local swimming hole is a must when visiting the island. Vai Tango Cave is located in the village of Oiretumu with deep waters and rocky icicles as a ceiling. Now with steps and a railing blended well with its surroundings, it's much easier and safer to descend and jump right in. In fact, it's new face lift compliments the site making it even more attractive than before. It can be quite intimidating looking down from above, but after overcoming the first jump – you won't be able to stop! Mauke is fortunate to have both saltwater and freshwater caves as options for it's locals and visitors. Kopu Po'oki (Stomach cave) is a saltwater pool and is a 5 minute walk from Tiare Cottages. You'll see a sign pointing towards the beach as you come from the road – you'll have to walk the reef, preferably at low tide, to get to the cave which is approximately 50m from the beach. I'd recommend reef shoes if you're not one for reef walking but once you're there you'll appreciate the beauty that lies within. A swim at any cave on Mauke is ideal for those blazing summer days, especially after a tiki tour around the island - all you need is a quick dip in the cool water to refresh yourself!
3. Catch the sunset at the Harbor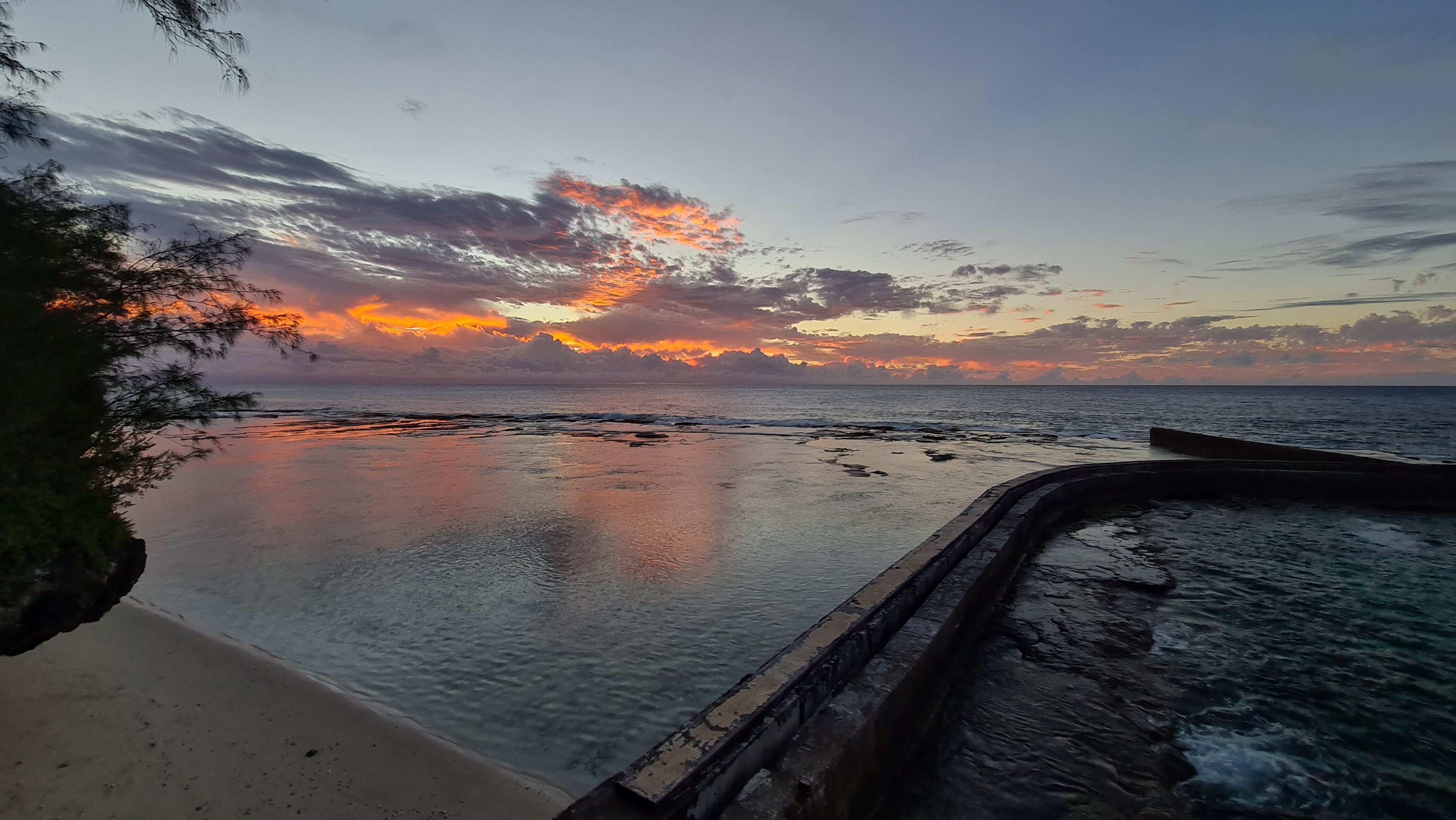 Setting on the western side of the island and with its extensive view of the ocean, the harbor is an ideal spot to take that picture perfect sunset shot. Its vibrant colors offer a deep satisfaction to the end of a day - orange, yellow, red- and if you're lucky, you might even have pink and purple hues some days! The skies colors bounce off the gleaming water while children splash and play, filling the air with laughter. While you're watching the sun play its part in this Picasso masterpiece, that's when you'll know you truly are in paradise. Only a 5-minute drive from the airport, it's impossible to not catch at least one sunset while you're in Mauke.
4. Attend a local church service at the Kimiangatau CICC Church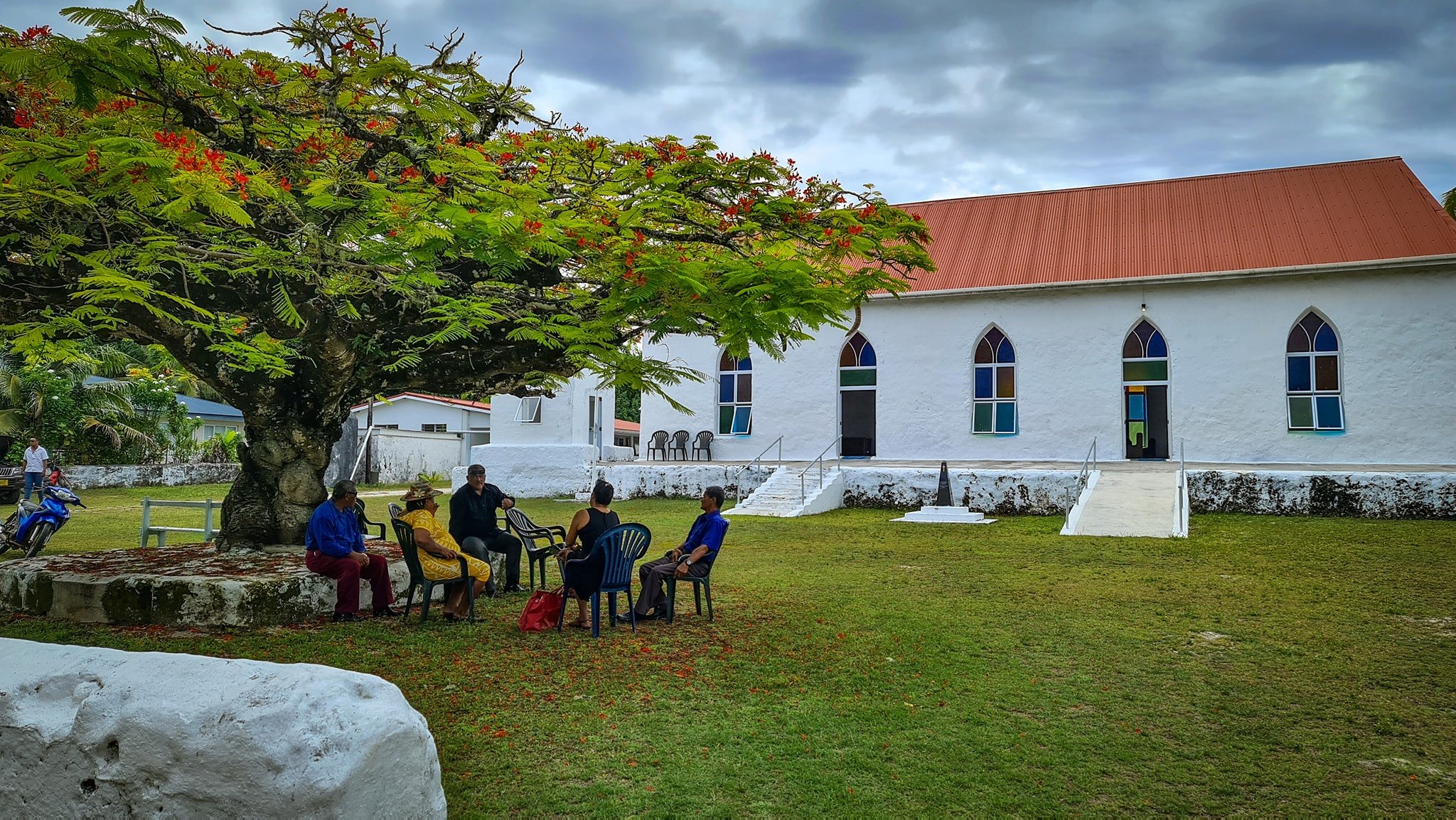 Religion plays a large part in the Cook Islands culture, where Sunday's are for devotion and rest. Attending a local church service is highly recommended where you're visiting Mauke. The island congregates at the various churches of Kimiangatau CICC Church, Ziona Tapu CICC Church, Catholic, SDA, and with their harmonious acapella singing, bring the church's to life. At Kimiangatau CICC Church the locals come dressed in their Sunday best with the mamas wearing beautifully weaved rito hats and a flower in their ear. Although majority of the service is conducted in the local language (Cook Islands Maori), the people's hospitality and warmth make you feel welcomed. The famous flamboyant tree centered right at the entrance of the church is the perfect spot to sit and chat with the locals once the service is finished. The tree is usually in full bloom between November and January. During this period, it acts as the church's very own Christmas tree during the festive season. This experience all in one will make you appreciate the simple and humble life of the Maukean people.
Below are a list of church service days and times for all Churches in Mauke:
Kimiangatau and Ziona Tapu CICC Church:
Wednesday and Friday  – 6am
Sunday – 6am , 10am and 4pm
Oiretumu Catholic Church:
Wednesday – 6am
Sunday – 7am
Kimiangatau Catholic Churches:
Wednesday – 6am
Sunday – 9am
Seventh Day Adventist Church:
Tuesday and Friday – 6.30pm
Saturday – 9am
5. Indulge in the local cuisine.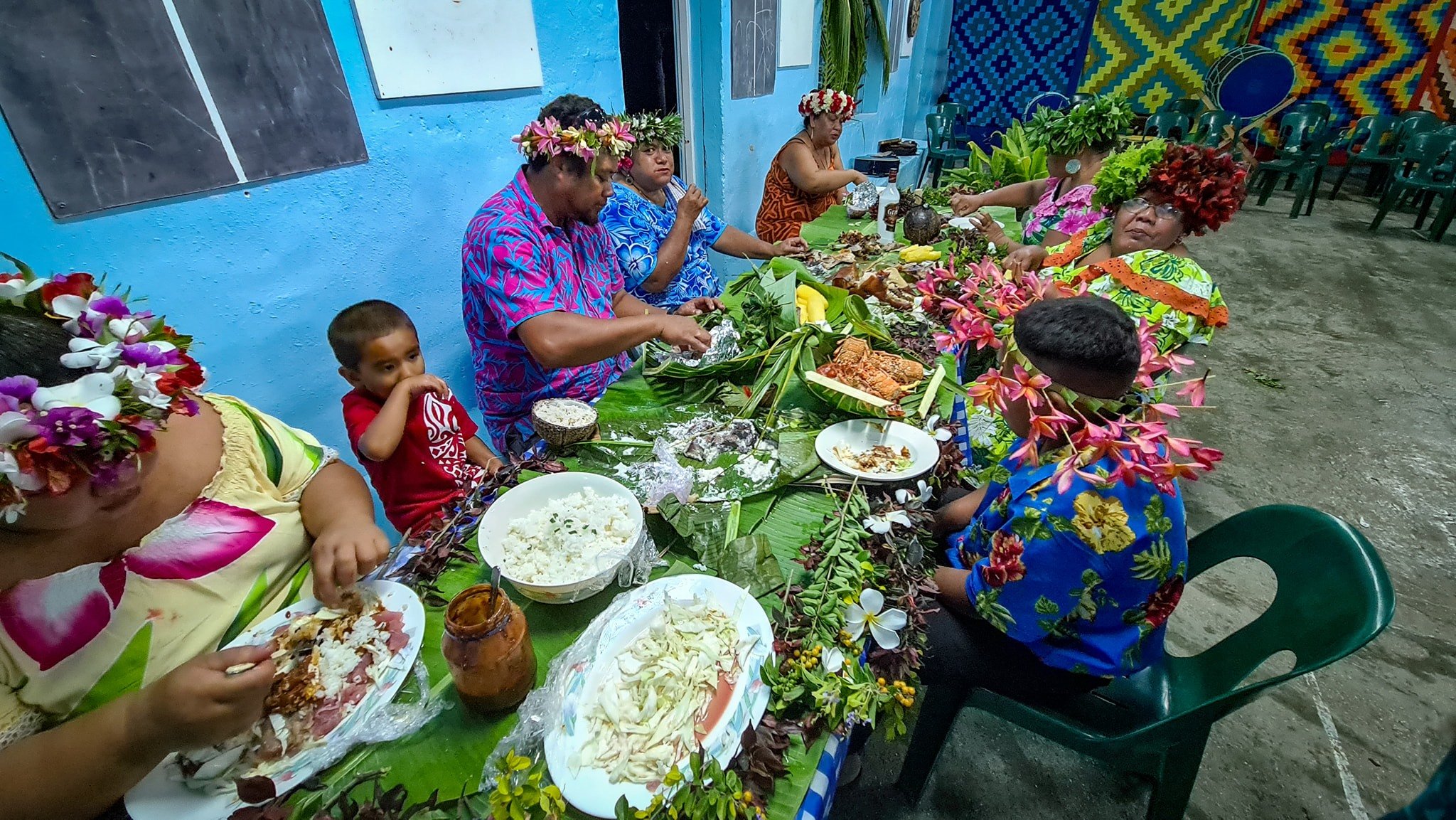 They don't lie when they say islanders love their food! Locals continue to fish, plant and farm livestock as a means for food and income. Locally sourced from the land and sea, you can't leave the island without trying some of its local delicacies. Rukau (taro leaves), taro, poke (baked banana with coconut cream), ika mata (raw fish salad), varaoa karo (angry bread) and so much more. As funny as it is, Cook Islanders love to attend events that will have a kaikai (feast) towards the end. Tari kai (taking food home) is something that you will find all Cook Islanders doing and will have you in jitters. With no restaurants and only one burger take away on the island, Toko's bakery is the place to contact for local delicacies. They not only sell locally baked goods, but can arrange for your very own catered style local kai! If you're staying at any of the two accommodations on the island (Ri's Retreat and Tiare Cottages), your friendly hosts will be able to help you get in contact with them to book your meal. Once you try the food, you'll understand why we just can't resist ourselves!
Alright! There's so much more I could recommend, but I want to leave you wanting more so that's me for now. Mauke's undeniable beauty of the land and its people will tug at your heartstrings. My appreciation and love for this island is never ending. And I am sure that whoever will step foot on her shores, will soon experience the same.